Best halloween makeup for male attention
Every October a new batch of blog articles are published that have ideas for Halloween makeup. Some are too complex, others and just not very 'Halloween'. So we decided to find the definative answer to what is
the best halloween makeup
that will get you the most male attention.
Our experiment
We took one model, asked her to design and apply her own makeup to ensure the designs were possible at home. We asked her to create four typical halloween styles, blood sucking vampire, eye piercing ghost, sexy zombie and beautiful half skeleton. We then put the images in the ooOo® dating app and tracked how popular each design was with our single men. Men who interacted with the halloween profiles were also asked why they made their selection.
The designs
This is what the four scary profile pictures looked like:
| | | | |
| --- | --- | --- | --- |
| Ghost | Vampire | Skeleton | Zombie |
As you can see from the designs there was a range of complexity. The Vampire and Ghost were relative simple to produce. The Zombie required more work as liquid latex was used to generate the scares and wounds. The Skeleton was the most complex as it involved a lot of fine details, especially around the mouth / teeth.
The results
After 8,762 votes here are the results:
42%: Vampire
21%: Skeleton
19%: Ghost
17%: Zombie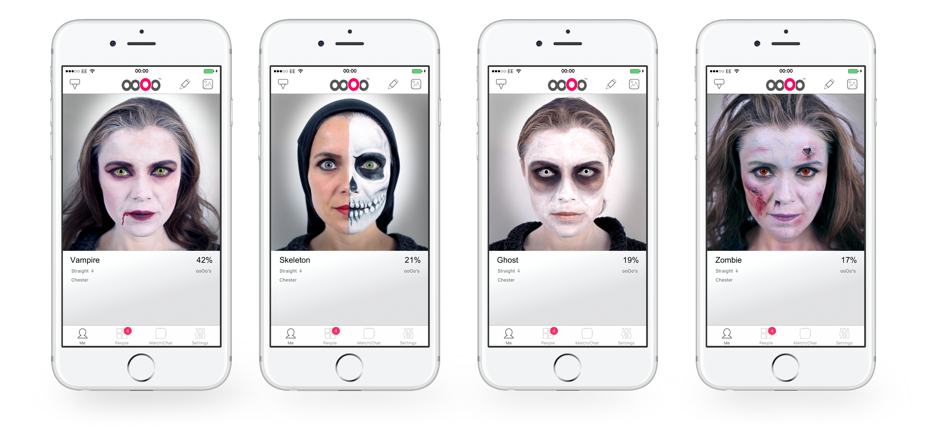 In addition we asked the men why they made their selection. Here are some of the comments:
Zombie:
"Sex and mysterious"
Ghost:
"Spooky and menacing. Just what I like"
"She's cute!"
Skeleton:
"Combination of halloween and natural is great"
"I really liked the technical aspects of this makeup"
Vampire:
"Always portrayed attractive and sexy in films and stories"
"Because I love my neck being kissed"
"Because female vampires are exotic yet frightening"
Suggestions
Of course the vampire is the clear winner with the largest bite of the vote and will get you the most attention. The vampire is also one of the simplest makeup styles to create. But you may also like to consider some of the other's depending on the type of guy you like. For example, Vampires are going to attract guys into fantasy. Skeletons will attract a more analytical mind, may be a scientist or engineer. You may consider the ghost if your already attractive as this will only add to your appeal and finally if you opt for the zombie we really don't know what type of man you will attract, just make sure you find one with good brains, or at least tasty ones!
Halloween Media (click to download)